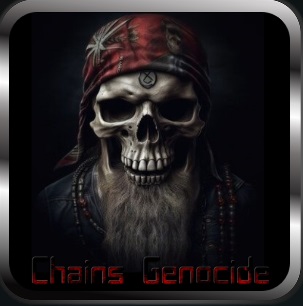 If you're looking to enhance your Kodi experience and stay up-to-date with the latest streaming options, you've come to the right place. In this guide, we will walk you through the steps to install the Chains Genocide Kodi Addon in 2023. With our detailed instructions, you'll be enjoying a wide range of content in no time.
Kodi is a popular media player that allows you to stream movies, TV shows, and more on various devices. To unlock its full potential, you need to install add-ons like Chains Genocide. This add-on provides access to a vast library of content, including the latest movies and TV series. In this guide, we'll show you how to install Chains Genocide Addon 2023 On Kodi.
In some countries, the ISPs (internet service providers) will be blocking this addon by preventing or restricting access. This issue will solve by uses a VPN (Virtual Private Network). By using a good VPN, it'll help you PROTECT YOURSELF ON THE INTERNET by stops your internet provider from being able to see what you are accessing online & stop an ISP from blocking Kodi Addons.NordVPN is a good VPN service suggested to you by many great features & is respected by the Kodi community. We offer you exclusive discounts for NordVPN.
Prerequisites
Before we dive into the installation process, make sure you have the following:
A device running Kodi (such as a Firestick, Android TV, or PC).
An active internet connection for downloading the add-on.
A few minutes of your time to follow the steps.
Check Out Also :
How To Install Chains Genocide Kodi Addon
Follow these simple steps to get Kodi Chains Genocide Addon up and running:
Launch Kodi: Start by opening the Kodi application on your device.
Go to Settings: In the Kodi home screen, navigate to the settings icon (it looks like a gear) and click on it.
Select System: Within the settings menu, select "System."
Enable Unknown Sources: Under the "Add-ons" tab, toggle on the "Unknown Sources" option. This step is crucial to allow the installation of third-party add-ons like Chains Genocide.
Navigate to File Manager: Go back to the Kodi home screen and select "File Manager."
Add Source: Under the File Manager, click on "Add Source."
Enter Repository URL: A pop-up will appear. Click on "None" and enter the following URL: https://team-crew.github.io/
Name the Source: Give the source a name, such as "Genocide Repo," and click "OK."
Go Back to Kodi Home: Navigate back to the Kodi home screen.
Access Add-ons: Click on "Add-ons" in the left-hand menu.
Install from Zip File: Select "Install from Zip File."
Click Yes on the Warning popup and if not already be sure Unknown Sources is enabled
Select Genocide Repo: Choose the source you previously added, "Genocide Repo."
Install Repository: Click on the repository.thecrew-0.3.4.zip file within the source. This will initiate the repository installation.
Access Add-on Repository: Once the repository is installed, go back to the Add-ons menu and select "Install from Repository."
Select Crew Repo: Choose The Crew Repo from the list.
Install Chains Genocide Addon: In the repository, navigate to "Video Add-ons" and select "Chains Genocide." Click "Install" to start the installation process.
Enjoy the Addon: After a successful installation, return to the Kodi home screen, and you'll find Chains Genocide in your Add-ons section.
Congratulations! You've successfully installed Chains Genocide Kodi Addon in 2023. Now you can enjoy a wide selection of movies, TV shows, and more on your Kodi device.
FAQs
1. What is Chains Genocide Kodi Addon?
Chains Genocide Kodi Addon is a popular third-party add-on that provides access to a wide range of streaming content, including movies, TV shows, and live TV.
2. Is it legal to use Chains Genocide Kodi Addon?
Chains Genocide Kodi Addon provides access to both legal and copyrighted content. It is essential to use this add-on responsibly and be aware of your local copyright laws.
3. Can I use Chains Genocide on any device?
Chains Genocide is compatible with a variety of devices, including Firestick, Android TV, and PCs, as long as they run Kodi.
4. Do I need a VPN to use Chains Genocide Kodi Addon?
Using a VPN is recommended when streaming content with Kodi add-ons. It can help protect your online privacy and ensure a secure connection.
5. How can I update Chains Genocide Kodi Addon?
To update Chains Genocide, go to the repository from which you installed it and check for updates within the add-on. Updates may enhance performance and provide new content.
Conclusion
With this comprehensive guide, you can now enjoy the Chains Genocide Kodi Addon on your preferred device in 2023. Make the most of your Kodi experience by exploring the vast array of content this add-on offers. Remember to use it responsibly and consider using a VPN to safeguard your online activities. Happy streaming!