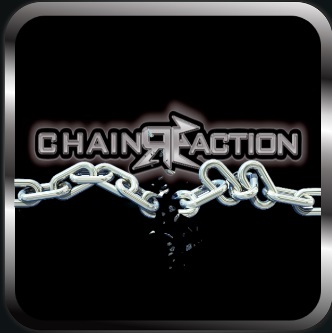 Welcome to our comprehensive guide on installing the Chain Reaction Kodi Addon on Kodi 20.2 Nexus. In this article, we will walk you through the steps to ensure a smooth and hassle-free installation process. Whether you're a seasoned Kodi user or a beginner, you'll find this guide informative and easy to follow. Let's get started! Chain Reaction Addon Menu:-
Trakt, Chains Reaction, Science Fiction, Retro-Wave, Fitness, Siren, House of Horrors, Crime-wave, Pro Wrestling, and more.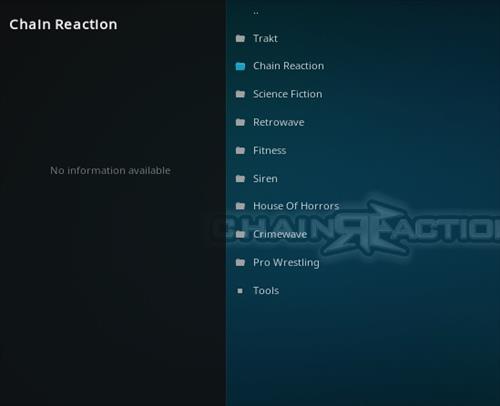 Before we dive into the installation process, let's make sure you have everything you need:
A Kodi 20.2 Nexus installation: Ensure you have Kodi 20.2 Nexus installed on your device.
Reliable Internet Connection: A stable and high-speed internet connection is essential for a smooth installation.
Allow Unknown Sources: To install third-party add-ons like Chain Reaction, you must enable the "Unknown Sources" option in Kodi. You can do this by going to Settings > System > Add-ons and toggling the switch.
In some countries, the ISPs (internet service providers) will be blocking this addon by preventing or restricting access. This issue will solve by uses a VPN (Virtual Private Network). By using a good VPN, it'll help you PROTECT YOURSELF ON THE INTERNET by stops your internet provider from being able to see what you are accessing online & stop an ISP from blocking Kodi Addons.

NordVPN

is a good VPN service suggested to you by many great features & is respected by the Kodi community.

We offer you exclusive discounts for NordVPN.
How To Install Chain Reaction Kodi Addon
Before installing Kodi Chain Reaction Addon, you have to install Kodi on your Amazon Fire TV stick if you don't know how to install Kodi on firestick then read this post about How to Install Kodi on Firestick after install Kodi follow these steps.
Installing Chain Reaction Kodi Addon
Now, let's proceed with the installation of the Chain Reaction Kodi Addon:
Launch Kodi: Open your Kodi 20.2 Nexus application.
Navigate to Settings: Click on the gear icon located in the top-left corner of the Kodi home screen.
Access File Manager: Scroll down and select "File Manager."
Add Source: In the File Manager, double-click "Add Source."
Enter Source URL: Click on "None" and enter the following source URL: https://team-crew.github.io/. Click "OK."
Name the Source: Give the source a name, like "The Crew," and click "OK."
Back to Kodi Home Screen: Return to the Kodi home screen by pressing the "Back" button on your remote.
Select Add-ons: On the Kodi home screen, click on "Add-ons" in the left sidebar.
Open Package Installer: Click on the open box icon in the top-left corner of the screen.
Install from ZIP File: Choose "Install from ZIP File."
Select the Source: Choose the source you named earlier, "The Crew."
Click repository.thecrew-0.3.4.zip
Wait for the Repository to download and popup at the top right and say The Crew Repo Installed
Install Repository: Select the repository file inside the source folder.
Install Add-on: Choose "Install from Repository."
Select Chain Reaction Addon: Click on the repository you just installed and navigate to "Video Add-ons." From there, find "Chain Reaction" and click to install.
Confirm Installation: Confirm the installation by clicking "Install" when prompted.
Wait for Installation: Wait a moment for the Chain Reaction Kodi Addon to download and install.
Access the Add-on: Once installed, you can find the Chain Reaction Addon in your Add-ons section on the Kodi home screen.
Congratulations! You've successfully installed the Chain Reaction Kodi Addon on Kodi 20.2 Nexus. Enjoy exploring a world of content right at your fingertips.
How to Use Kodi Builds/Addons Safely
Before you start streaming with Kodi Addons / Builds, I would like to warn you that everything you stream on Kodi is visible to your ISP and Government. This means, streaming copyrighted content (free movies, TV shows, Sports) might get you into legal trouble.
Kodi users are strongly advised to connect to a VPN while streaming. A VPN for Kodi will bypass ISP throttling, Government Surveillance, and geo-restriction on popular Add-ons. I always connect NordVPN on all my streaming devices and I suggest you do the same.
NordVPN is the fastest and most secure VPN. It comes with a 30-day money-back guarantee. Meaning, you can use it freely for the first 30 days and if you are not satisfied with the performance (which is highly unlikely), you can ask for a full refund.
NOTE: We do not encourage the violation of the copyright laws. But, what if you end up streaming content from an illegitimate source unintentionally? It is not always easy to tell the difference between a legit and illegal source.
So, before you start streaming on Kodi, here's how to get VPN protection in 3 simple steps.
Step 1: Get the NordVPN subscription HERE.
Step 2: Click HERE to download and install the NordVPN app on your device.
Step 3: Click the Power icon to connect to a VPN server. That's all. Your connection is now secure with the fastest, Best VPN for Kodi & Best VPN Deals
For more information on Kodi and what the best Kodi builds & add-ons check out our popular list updated Monthly:
Frequently Asked Questions (FAQs)
1. What is the Chain Reaction Kodi Addon?
The Chain Reaction Kodi Addon is a popular third-party add-on for Kodi, offering a wide range of content, including movies, TV shows, sports, and more.
2. Is the Chain Reaction Kodi Addon safe to use?
Yes, when installed from a reputable source, the Chain Reaction Kodi Addon is safe to use. Always ensure you download it from a trusted repository.
3. Can I use Chain Reaction on other Kodi versions?
While this guide is specifically for Kodi 20.2 Nexus, the Chain Reaction Addon may be compatible with other Kodi versions as well. Be sure to check for compatibility with your specific version.
4. Are there any alternatives to Chain Reaction?
Yes, there are various Kodi addons available, each with its own unique features and content. You can explore different options to find the one that best suits your preferences.
5. How can I update the Chain Reaction Kodi Addon?
To update the Chain Reaction Kodi Addon, you can typically do so through the repository from which it was installed. Check for updates regularly to ensure you have the latest version and features.
conclusion
In conclusion, the Chain Reaction Kodi Addon opens up a world of entertainment possibilities on your Kodi 20.2 Nexus. Follow the steps outlined in this guide for a hassle-free installation process, and enjoy a wide variety of content right at your fingertips. Happy streaming!